Who we are.
Pet Stop® of Bismarck is a leading provider of Pet Stop®, Pet Fence Systems. We also service all pet containment brands. We're your local pet fencing experts, offering region-specific expertise to Central North Dakota.
Everyone knows that it's important for our pets to get plenty of exercise so why not give your pet the freedom and exercise they deserve by installing a Pet Stop®, Pet Fence System? We provide Bismarck/Mandan and Central North Dakota with professional, custom installations featuring the most technologically advanced and effective electronic pet fence available today. We're the pet fencing experts, dedicated to making sure your pet is safe, happy and healthy! With a new, electronic pet containment system installed by Pet Stop of Bismarck, you can have peace of mind that your pet is secure.
Pet Stop® of Bismarck Local Pet Fencing Expert Scott Strahm and his Daughter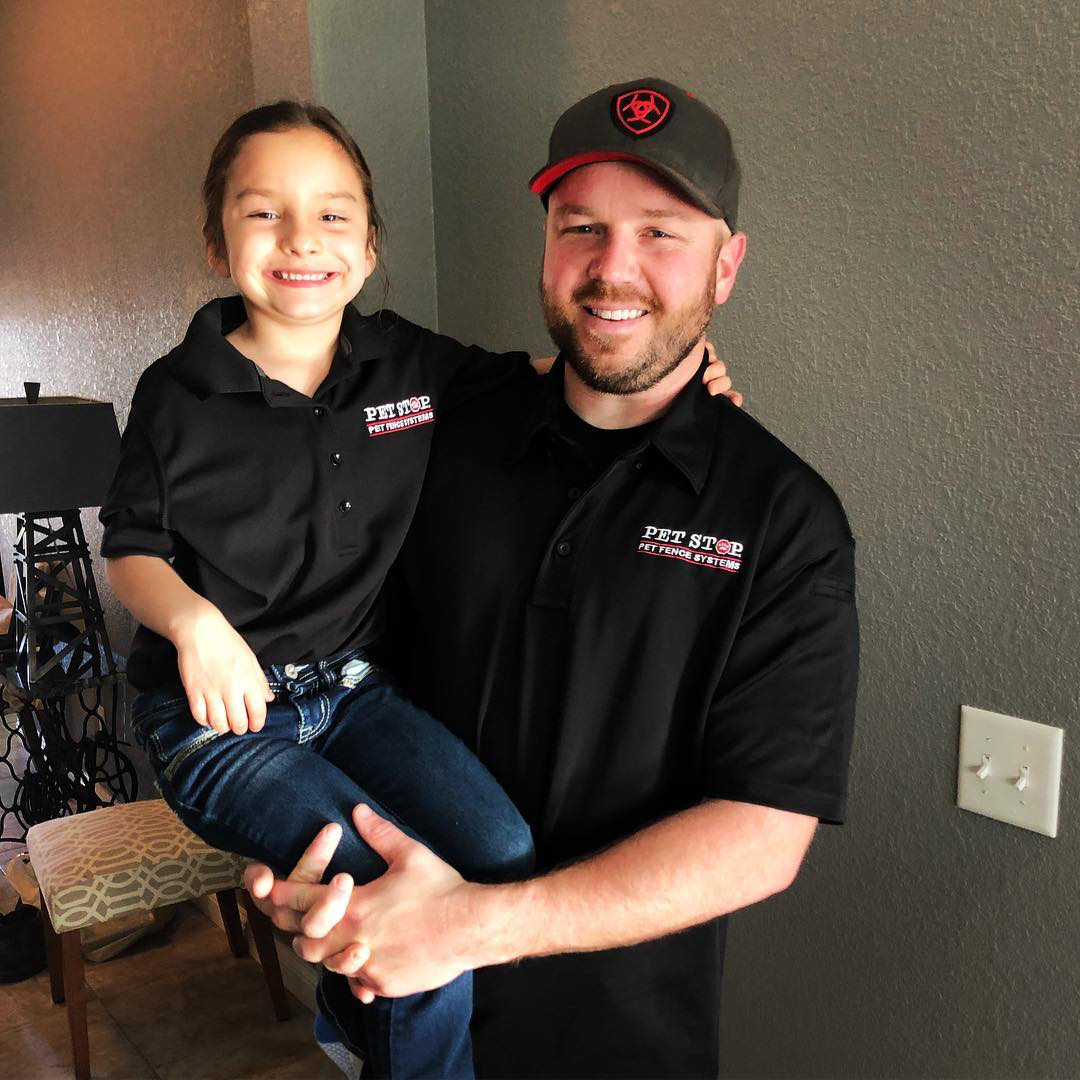 Call Us Now:

701-226-9157
Our Services
New Installation
Pet Stop® of Bismarck provides North Dakota with the highest quality invisible pet fencing systems. This gives your pet the freedom they deserve, while you can rest assured that they'll be safe and won't leave. You can read about our invisible dog fence installations and dog training on our How It Works page.
Service & Repairs
Although we exclusively provide Pet Stop® products, we can service and repair all major pet fence brands. This includes promptly fixing wire-breaks, which are normally indicated by your transmitter beeping. We are also able to re-configure your pet fence to protect a new garden, pool, or any other change to your yard. Some of the major brands we service are Pet Stop®, Invisible Fence®, Dog Watch®, Innoteck®, Dog Guard®, Petsafe® and even the Do-It-Yourself brands.
Replacements
Along with our replacement Pet Stop® products and batteries, we also provide replacement Invisible Fence®, DogWatch®, Dog Guard®, and Petsafe® brand receivers and batteries (Powercap® Compatible). Not only are our replacement parts compatible with your existing Invisible Fence® system, but they are loaded with Pet Stop® features that aren't available elsewhere! You may even order replacement batteries in our Online Shop.
---

We know that your pet is a member of the family, and they deserve only the very best when it comes to their safety. That's why we choose to provide only Pet Stop® products. High-quality product, combined with the effective GentleSteps™ training method, allows us to guarantee your pet will be safely contained for years to come.
Why Pet Stop Systems are Hands-Down the Best in the World:
It's the ONLY electronic pet fencing system 100% Made in the USA
Yes, all Pet Stop® electronic pet fencing products are 100% designed, tested, and Manufactured in the USA. By keeping production here, we ensure the quality and reliability of our products. We use only the best materials for our products – when your pet's safety is a concern, we won't settle for anything less.
It's the most technologically advanced pet containment system
Pet Stop® and Perimeter Technologies® are constantly innovating and setting new standards in underground pet fencing – we hold more patents than any other electric pet fencing company in the industry. Our latest creation, the EcoLite rechargeable receiver, is just another example of how Pet Stop® continues to raise the bar.
It's the most pet-friendly electronic fencing system
Only Pet Stop® uses the unique, revolutionary training technique, Gentlesteps™. This low-stress method trains your pet to their fences faster and without the trauma caused by painful electric zaps. Our highly customizable products are designed to work hand-in-hand with Gentlesteps™, allowing us to customize your pet's experience to best suit their individual personalities.
It's got the best warranty on the market
Pet Stop® has a 99.6% successful containment rating, and we back it up. Only Pet Stop offers UltraCare™, a Pet Stop® exclusive that goes above industry lifetime warranties by offering not only a warranty against manufacturing defects, but also protection against accidental damage.